Just A Broken Ingenue's
Livejournal


journal
user info
calendar
friends
memories
currently viewing:
most recent entries
go: earlier

e-mail
AIM
Yahoo!


Name: Meg
Location: Pa
Birthday:3/25/86
Age: 18
Status: Single
Grade: Done High School
School: Soon to be a freshman at DCCC
Hair Color: red
Eyes: blue
Tattoos: dolphin on back of the neck
Siblings: Caitlin[14] & Kevin[13]
Fave Color: pink
Music: Bon Jovi,The All-American Rejects,The Ataris,Trapt,Smile Empty Soul,Three Days Grace, Evanescense etc...
Movies: Thirteen, Thirteen Ghosts, Gothika,& The Virgin Suicides,Peter Pan, Pirates of the Carribean, The Crow

.:Blinkies:.
I made all of these,so please dont take any without my permission.

<
http://www.webpost.net/sh/shackldnchained/condom1.gif

"Jenna Jameson"

Best viewed:
IE5+ 1024x768
Layout created by:
CherryStyle ©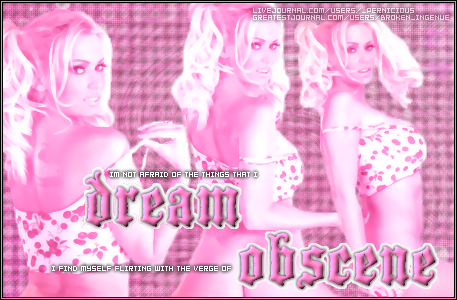 :: subject: Life really does suck


I know I know......I'm the worlds worst updater. I've actually pretty much been sick for the past 7 weeks. First I got bronchitis for 3 weeks. Oh boy was that a joy to have. I was coughing until tears came out of my eyes and my head killed. Then on November 1st I ended up getting my period and it didnt end for a month. I dont know what the hell is going on but thats shit isnt normal. And now that its over the bronchitis or whatever the fuck this is decided to bless me with its appearance. On Tuesday I have to go and get an ultrasound along with blood tests to make sure everything is okay and there arent tumors or anything. Then on Dec 29 I have a gyno appointment and Ive already been told they'll put me on something because Ive been out of whack since July. I'm hoping everything is okay. I had Miss Brenda pray for me at work on Friday because I'm so worried. Ive been told by a few people that I probably just need a d & c. They make it sound so easy and painless but it cant be if they have to put you to sleep. I already told my mom that if I get a male tech for the ultrasound I'm walking out. I don;t feel confortable having a guy I dont know and I dont trust touching any area of me including down there. I'm hoping I'm just making a big thing out of nothing.

Now onto xmas stuff. I think I'm almost finished shopping. I got my sister really cute jeand with slits up the sides and gems on them, baby phat perfume, and a baby phat winter coat; I got my brother a Sean John velour hoodie/pant set and 3 Sean John long sleeved shirts;I got my mom a necklace charm and pjs; I got my aunt 2 nightgowns and I'm still working on the rest; I bought Chico man a coach collar, rawhide gift box, rawhide candycanes and a sweater; and so far I've gotten Angel (my polywhatever) a southpole sweater. I still have to finish gifts for my mom, my aunt, angel, and the 2 salvation army kids I adopted. By Dec 25 I will be broke.

Every 3 months we get this thing called a gainshare check which is like a bonus and this month it wwas 1,600. I only saw 1,100 though thanx to taxes. Fucking bitches. I bought myself a nice dell that came with a flat screen, dvd/cd burner, and a dvd player. After buying that plus some xmas gifts I only have like 200 left. Money really bites. I cant wait until I can go back to buying gifts for myself. Theres so much from mac and sephora that I want. I've fallen in love with eyeshadows. Everyday I get another compliment for mine. I always thought I was horrible at blending but I guess Im just too hard on myself.
3 moans
Got Jenna?

Yay so I FINALLY have time to make an update. Last Friday I decided to lie to take the day off from work. And what did I do with my day off? Oh I went with Erin and got my nose and industrial done. The odd thing is my nose hurt more than the industrial. Im surprised that I didnt back out after seeing Erin shiver when she got her industrial done. I'm already thinking about the next thing I'll get done. I have a few ideas in mind but I wont mention those yet. Saturday I took the 6 hour drive to Grove City to see the bad seed. It was a huge waste of time. We had to stay on campus because he got in trouble so it pretty much sucked. We did have a nice room with a hot tub though so that was fun. On the way home my car decided to be a dick after we got gas and the service engine soon thing popped up. It wouldnt have been scary if it didnt start acting weird. Apparently it only needed to be clean or whatever. I do need to look into getting a new car though since mines almost 10 yrs old with 121k miles.I really want a mustang so bad so I need to do my homework on that. I got 6 hours overtime so thats good. Next week I'm getting at least 17 hours extra.
1 moan
Got Jenna?

Yeah so I havent exactly posted in like 1,000 years. Works been pretty good. Ive been doing like an hour or so overtime every week. I kinda have a thing for one of the guys I work with but theres like 3 strikes against that. 1. I dunno exactly how much older he is. 2.He's far from my type. 3.My mom wouldnt exactly approve b/c he's far from white. I'd probably have a .000% chance anyway. Either Thursday or Friday I've decided I'm either getting my nose pierced or my industrial. I'm not really sure which one I want more. I still have to decide where I'm gunna go for it. I was thinking Studio One but I dunno.I just have to make sure I buy this numbing stuff that one of the maintenance men at work told me about.
1 moan
Got Jenna?
:: subject: Warped Tour & Work


I guess it's time for me to update since it's been so long. Last Friday was Warped Tour so I went to that. We ended up taking the stupid ferry since my mom and aunt thought it would be safer. We got to the Tweeter center at like 12:50 and stayed until 5. I met a band, more like a brother & sister, named Sunset West. They arent bad. The brother is literally the prettiest guy I've ever seen. I got to see Relient K so I can officially die happy. They're the reason I even went. My god they were amazing. I'd give my whole pay check to see them again. The girl that was in front of my was the biggest dumbass. The lil twit kept holding this stupid shirt up and making hearts with hands. I wanted to punch her. I just wish I had stayed longer because I probably missed the best shows.

Works been going well. It's a pretty easy job. All I do is sit there with my hands inside a box drying material all day. The people are great. I really don't hate one person. I dislike a few on the shift before me though. There's only 3 people on my shift near my age. 2 of them have are race confused. The one guys really hot though. I've only gotten to talk to the kid once. I think I'm going to apply for a new position. $9.25 an hour is more than most people my age make especially at a 1st real job, but $11.25 sounds so much better. Hopefully I'll get one of the positions I apply for.
1 moan
Got Jenna?

Welp today starts my 3rd week of work. It's getting better. I got my 1st paycheck last Wednesday for $284.55....I can so get used to getting that money. This week I'll be getting even more since I worked Saturday and got $13 something an hour. Today I'm no longer training too so I'll probably be stressed out. Hopefully the guys will be nice since it's my 1st day alone and actually bring the material at a good pace. I swear they fool around too much. The only thing I hate is I'm like the youngest one there. I think maybe 3 people might be around my age but theyre guys and they listen to rap so that doesnt work. I think I might just be the only one there that hates rap. Hopefully today Pat will put on Q102 so I'm not listening to all rap all the time. I probably should have taken my meds today because my anxiety is pretty high right now. I just need to stop worrying and just settle down. There really isnt anything to worry about. No one else there gives a shit. I also have to remember to give my next door neighbor an application. I've had a few of them sitting on the table for the past week and I just keep forgetting. Oh well I gotta get ready to leave. Hopefully today will be a good day.
2 moans
Got Jenna?

Welp I started my new job this week. I love the job, my coworkers, and even my supervisor....but I cant perform the way I'm suppose to. Im considered a dryer and I have to put my hands in these HUGE gloves in a box, but the gloves are 5xs too big for my hands. It sux that I was born with really small hands. Today Sherry(my supervisor)said she'd talk to Tom(the boss) about switching my job. Hopefully she'll have some good news for me tomorrow. The guy thats training me is hilarious. He has all these stories about how nursery rhymes are corrupt. Like Goldie Locks and the Three bears teaches kids its okay to break into peoples homes, eat their food, break their stuff, and take a nap. Oh and Little Red Riding Hood has a transvestite wolf so that doesnt give a good message. For a 1st real job its really great. It's such a laid back environment and everyones so friendly. I also picked up applications so if anyone needs a job let me know.
2 moans
Got Jenna?

Im praying this job is worth the hell I've gone through. I got at the drug place thing ontime yesterday and had to wait like a half hour nefore being called back for part one of my physical exam. By the time I got back in the room my anxiety was sky high because I saw needles in one of the dr offices. So my hand were so shakey and thats what I had to use for the exam the whole time. The lady was gunna fail me because she thought I had Parkinsans or something but then the nice guy(who I think was in charge) asked if I had bad anxiety. So they made me take my xanax which I usually refuse take and he did the exam with me and I passed. I dont think the woman understands that when a person suffers from such a horrible mental illness unfriendlyness really only makes it worse. After part one I had to go take my drug test, hearing, and eye sight. The a guy Dr. gave me my physical which I dont think should have been allowed. After that came the part I had been dreading. The unfriendly woman who did my drug test and hearing exam was about to take my blood in a vein in the middle of my arm with a regular needle....but then I was saved by the nice gay(I think)guy. He told her he'd do it and he was nice enough to use a butterfly needle. I never knew I'd have to go through so much for one stinkin job. I guess they'll be calling me tomorrow or Friday with my schedule. My aunt decided to call and tell me to pick up an application for the girl next door too. So I have to wait at least a week before I attempt any of that, especially since I'm on probation there.
1 moan
Got Jenna?
:: subject: woohoo


Yay so I got the job I applied for. I just got the call back today, and I have my drug test/physical tomorrow. Hello $9 an hour. I can't wait to actually have money for once. I had my 2nd interview last week with the supervisor and he took me through the place. It's basically putting some kind of weapon protection thing for the military together. The woman who called today told me she'll call by the end of the week with my schedule. I'm kinda nervous. I've never had a real job before. I'm really hoping my medications are okay on the drug test. I just need to stop worrying.
Got Jenna?
:: subject: bitches need to burn


People piss me the fuck off. I'm surprised I haven't gone nuts yet. The stupid bitch I was working for decided that her husband who can't even turn off the stove and oven by himself is fine and I don't need to work anymore. I'd be fine with that if she had called me and told me this. But no the dumbass never calls me and just leaves me hanging until I call her at 10:30 last night to see what I'm suppose to do. I swear I hope he burns down their house. Yes I'm just a little bitter. I think if your going to stop needing someone to work for you then you should call them and let them know.

On a lighter note I have my 2nd interview with this place on Wednesday. I'll be working in Boothwyn instead of Brookhaven. The job doesnt seen bad. You get $9 an hour plus bonuses if you meet their quota, you get medical and dental insurance, life insurance, 401k, and gym reimbursements. I talked to another girl that worked there while I was waiting for my 1st interview and she said the job isnt hard at all. You sit all day and assemble things. Hopefully I'll get this job because I'm broke and I dont even know how I'm paying my car insurance next month. My therapist did the math and I'd be making $300+ a month. Oh well I guess I'll just have to pray and hope for the best.
1 moan
Got Jenna?
:: subject: blah


I'm so stupid. I have a bottle of xanax to help me with my anxiety, and I just don't take it. I guess I'm afraid of growing dependent and dealing with withdrawl. effexor was bad enough but I know xanax will be 500xs worse. I should take it though because it's whats going to help stop the anxiety that has ran my life for the past
5-6 years. I really hate the side effects too but I get them because I'm not use to them. I seriously need to put myself back on the meds. I can feel my anxiety coming back worse and worse every day.

On a lighter note I may have a lil skin cancer on me. I dont go out in the sun so I dont understand why a weird looking mole would be on me. This one is black and a suspicious shape so my new dr that I met today will be removing it on August 31st. I really hate needles and I need to get one so they can freeze it. Oh I also have to get blood work done which should be lovely.
2 moans
Got Jenna?

So after a year off from school, I finally know what my calling is. Hopefully this fall I will be attending Delaware County Community College(I didnt take the SATS so thats the best I can do)to study Adminstration of Justice. Then in 2 years I'll transfer to a 4 year college to get my bachelors in forensic science. I deffinitely want to be a csi. I've never been more sure about anything in my life. As odd as it sounds...I like the dead more than the living. My biggest problem is finding a school that actually has it. Alvernia College does but I know nothing about there. Guess I'll have to do some research.
Got Jenna?
:: subject: warped tour


So yeah warped tour is in like 3 months and I still have extra tickets. So if anyone wants to go with us just say the word. The tickets are only like 20 since I think thats what i paid for them without the tax and shipping. I'm suppose to get a cd with each ticket too. My sister might be inviting a friend....it all depends on what friend that is.
2 moans
Got Jenna?

So Friday was my weigh in day at curves and so far Ive lost 10 lbs, 11 inches, and 6.89g of body fat. I'm hoping that's good. I was aiming for 20lbs but everyone said 10 is really good. I really do love curves and I think it's probably the best program out there. I doubt I'd be able to feel this good if I had joined anywhere else. And the support system there is amazing. I think this month I'm going to spend an hour there everyday plus do atkins without cheating.

Moving on. Saturday I got up at 5 so I could leave to take a trip up to the Pittsburgh area. Holy hell that was the longest drive ever. I can't believe I drove 6 hrs straight with no break. We got to the motel at like 12 and I guess it was pretty nice. I thought it was going to turn out to be like the bates motel because it was cheap and allowed dogs. After that we picked up kevin from his "jail" and got food to take back to the motel. After we ate we headed to the outlet place there which was like ginormous. The only thing that sucked was there wasnt anything cheap. I though outlets was suppose to be bargain buys. Anyway after shopping we headed back, dropped my brother back off, and then I pretty nuch passed out at 8. The next day we went back to the outlets, grabbed food, said goodbye to kevin and headed home. Ewwww on the way home there was giant roadkill on the highway and I had to go over it because there were cars in the other lane and blood spattered on my car. Poor Lucy was pretty gross looking. Oh well thats enough for now.
3 moans
Got Jenna?
:: subject: ummm....EW


During an hour's swimming at a municipal pool you will ingest 1/12 liter of urine.

In an average day your hands will have come into indirect contact with 15 penises (touching door handles etc.)

An average person's yearly fast food intake will contain 12 pubic hairs.

In a year you will have swallowed 14 insects - while you slept!

Annually you will shake hands with 11 women who have recently masturbated and failed to wash their hands.

Annually you will shake hands with 6 men who have recently masturbated and failed to wash their hands.

In a lifetime 22 workmen will have examined the contents of your dirty linen basket.

At an average wedding reception you have a 1/100 chance of getting a cold sore from one of the guests.

Daily you will breath in 1 liter of other peoples anal gases.

for people w/their noses pierced, I was wonder how bad did it hurt? I wanna get mine done but I dunno about the pain. Do they do it really fast like your ears or is it like slow motion pain?
2 moans
Got Jenna?

Let me say that joining curves was the best decision I have ever made. I love it so much. I don't think I could have had the same reaction towards any other gym. Since starting 2 weeks ago I feel a lot better. The staff there is so nice and so are the women that work out there. It's a more comfortable environment than most gyms. It's so easy too. I think I'm going to start staying an hour for now on. I didnt think I'd enjoy the place this much. I guesd I was really pessamistic at first and then I got to see how great it really is. If anyone wants to try it out and see I have 2 guest passes which lets you go through all the equiptment and how to use them and also they do some body thing.

Oh yes & once I hit my goal......I'm getting a boob job. I've decided I wanted one since you lose your boobs when you lose weight. I'm not going to any surgeons in the philly area though because I dont trust those fuckers.
3 moans
Got Jenna?

I lost my computer for a few days. It finally got fixed on Thursday. Yesterday I had to go to Bernville again so my mom could drive all the way up to Pittsburgh to see my brother at his tropical island kiddie jail. I fucking hate going there. Everytime I'm there I get closer and closer to getting lung cancer. I'm sorry but noone needs to smoke that much. It's so fucking disgusting. I'm just so out of it from all thats been going on lately. Between the shit with my brother,the fucked up job, everything that seems to be going on with my family here.....I just can't take anymore. My dr. took me off lexapro and put me on xanax xr last week but the fucking insurance wont cover it so im left with nothing right now because shes out of town. Ive been having panic attack after panic attack. I was told by the pharmacy to see if she can give me regular xanax and then my insurance should cover that. I guess she doesnt think depressions a problem with me because none of the meds I'm on now treats that. And the stupid bitch decided since I said I had a few Ativans left that she'd skip giving me them this time. I should have lied and said I had nothing. I kinda wish she didnt take me off lexapro. Since I was put on it I havent hurt myself yet. Ive had urges but I know I dont need it. It's been a whole 6 months and that's pretty much the longest Ive gone since I started in 7th grade. I'm hoping my therapist gets all this situated so I dont have to go without any anxiety meds for more than 2 days.
1 moan
Got Jenna?

Yesterday was an extremely long day. I spent the day in Bernville again for my brother's sentencing. He ended up being put away for 6months to a year in Pittsburgh. We got lost on the way which lead to me cursing at my mom for the 1st time ever. Then we got there and I seriously wanted to puke. My god they smoke so much and everything was buring me. My nose felt horrible from it. The only good thing that came out of it was me and my sister got to go to the Vanity Fair Outlets. Omfg I loved it. They hade a Dooney & Bourke outlet, Coach outlet, Designer Fragrances outlet, a cosmetic shop that sold M.A.C makeup, plus like a million other stores. I ended up getting a 3.4 bottle of J'dore by Dior for $56 as opposed to like $100, M.A.C makeup, and a few lil things from their party shop. Next time I'm taking more money so I can get XOXO perfume and a purse from one of those 2 outlets.
2 moans
Got Jenna?

My birthday was okay. I got The Crow 3 disc set, X-men & X2 disc set(yes im a dork who loves xmen),The Notebook, Finding Neverland, AAA membership, a new DVD/VCR player, and a gym membership. Today was hell. We left for Bernville at 2:30 and got there at like 4-4:30. Me being the bitch I am refused not to go in their house because all they do is puff away and theres no way in hell im stinking like that. Then we went to the prison at 5:30 to see Kevin. Me and my sister had to sit in the car for a half hour because only 3 people can go in. After that we went to McDonalds and headed home. It was a pretty good drive to and from since my mom didnt say "55. The speed limit is 55." Now I have to go find pictures of Jenna Jameson or Briana Banks to make a site layout.

Oh btw I'm creating a .com sometime next week and I need help deciding on a name so please vote.



What should be the name of my site?
Got Jenna?

Yay I'm 19 tomorrow. Two more years and I'm 21. I'm not doing anything for my bday just like every other year. Then Saturday I have to drive all the way up to Berks County so my mom can visit my brother in his little prison. Then Sunday my sister and I are going to see The Ring 2 and then eating at Hibachi. It's gunna suck with just the to of us though. It's always weird eating at Hibachi with just a few people. But boy oh boy so they have the most AMAZING stuff.
3 moans
Got Jenna?
currently viewing: most recent entries
go: earlier




Blinkie_Castle
Frosted_Icons
Graphix
Jenna Jameson
i tried to kill the pain
but only brought more
i lay dying
and i'm pouring crimson regret and betrayal
i'm dying praying bleeding and screaming
am i too lost to be saved
am i too lost?

my God my tourniquet
return to me salvation
my God my tourniquet
return to me salvation

do you remember me
lost for so long
will you be on the other side
or will you forget me
i'm dying praying bleeding and screaming
am i too lost to be saved
am i too lost?

my God my tourniquet
return to me salvation
my God my tourniquet
return to me salvation

my wounds cry for the grave
my soul cries for deliverance
will i be denied Christ
tourniquet
my suicide


link
link
link
link
link


link
link
link
link
link


link
link
link
link
link